When Nexus went to Greece
I would have never imagined that one year after meeting Ioanna Fotopoulou for the first time, we would become such close friends and colleagues. She visited Huntsville AL on a US Dept of State sponsored program called YTLI (Young Transatlantic Innovation Leaders Initiative), supported locally by Global Ties Alabama. I have been a mentor for Global Ties visitors in the past and enjoyed speaking about entrepreneurship and our clean energy program for our community.
But then Ioanna visited and everything changed. We not only deeply understood each other's passions but we wanted to help each other be successful. On her trip to Huntsville, she met local politicians, CEOs, Directors of non-profits and my family. Why my family? Because I wanted her to see how living in Huntsville felt, and what better way to do that than to come to my home. The kids immediately loved playing games with her and eating dinner together. She needed to see the charm of Huntsville and why young people are starting businesses here while also raising kids and enjoying life.
So when I was able to return the favor and visit her in Athens, she was eager to show me why Athens is so special but why they aren't quite as economically stable as Huntsville. She arranged for us a very special meeting with the U.S. Embassy Athens representatives, Monica Cummings (Public Affairs Counselor), Steven Bitner (Counselor on Economic Affairs) and Evgenia Diatsigkou (Cultural Affairs Specialist) along with Greek influencers of the Energy industry. They were eager to hear about Nexus Energy Center and the success we have seen encouraging energy efficiency to Alabama while also paying attention to those most in need with our Comfort Project.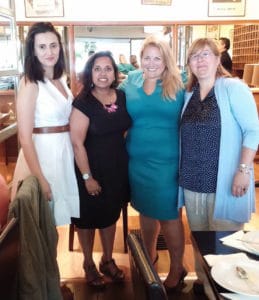 Also in attendance were Thanasis Marioglou, CEO of Monoseto a cool company doing similar work to Nexus Energy Center but also development of spray foam insulation material. I am excited to stay in touch with him and learn from his tremendous success promoting efficiency in Greece. His annual sales are so impressive that he is often looked to as the business expert for homes and commercial sites.
Finally, I met Gerasimos Avlonitis, Nikolaos Raptopoulos, and Nikolaos Farantouris who are brilliant educators and advisors to major energy initiatives in Greece. They are also on the pulse of new research and economic policies that will help promote clean energy solutions. I was impressed by the degree programs they have started on energy related studies. They have asked if I can come back and speak to their students, let me think… "YES"!!!