Alabama's industrial sector leads State energy consumption, accounting for nearly one-half of total energy use.*
The Alabama Department of Economic and Community Affairs (ADECA) is pleased to offer the state's first and only energy revolving loan program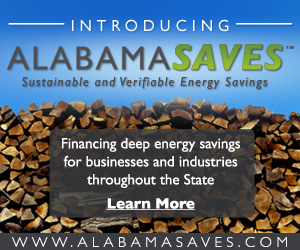 for existing industries. The program, funded through the American Recovery and Reinvestment Act, provides extraordinary financing solutions for commercial and industrial energy-efficiency and renewable-energy projects in Alabama and is administered by Abundant Power Solutions, LLC.
AlabamaSAVES™ enables businesses to secure below-market rate financing, at 1%, enabled through 'credit enhancements', which are direct monetary subsidies funded through the American Recovery and Reinvestment Act. In order to receive a subsidy, a project must have a simple payback of 10 years or better.
Eligible Businesses
Program subsidies are available to all private companies (i) with a place of business in Alabama that are duly organized and/or qualified to do business in the state and (ii) that own and/or operate one or more existing commercial, industrial, or institutional facilities in the state.
Eligible Projects/Improvements
Subsidized loan funds may be used to purchase and install equipment for renewable-energy systems and energy-efficient fixtures and retrofits installed on property owned and/or operated by an eligible business. Eligible renewable energy systems may employ solar, biomass, biofuels, geothermal, micro-hydroelectric, methane capture and use or fuel cell technologies. Eligible energy-efficient fixtures and retrofits may include mechanical systems and components including HVAC and hot water, electrical systems and components including lighting and energy management systems, doors and windows, insulation, refrigeration and combined heat and power. Subsidized funding from the program is for retrofits of existing properties and NOT for new construction of buildings and factories.
Application Process
The AlabamaSAVES™ program was redesigned in early 2012 to ensure simplicity:
The Expression of Interest Form allows for the collection of basic project information. The Financial Discussion is a consultation on financing and next steps. The Loan Application formalizes the request for a subsidy or direct loan. The application fee is $500 for projects less than $250K and $1,000 for larger projects. All applications will be reviewed for conformance of program policies on a timely basis by the Loan Review and Governance Committee, which is comprised of representatives from ADECA Energy Division, Abundant Power (Administrator) and other parties appointed by ADECA Energy Division. Before funding is awarded, an Energy Assessment, defining the project and estimated energy savings impact, must be submitted and reviewed to ensure a simple payback of 10 years or better.
Loan/Subsidy Terms
The AlabamaSAVES™ program subsidies are offered in the form of a Loan Loss Reserve and Interest Rate Buydown for each accepted applicant. The available subsidies, which enable a 2% interest rate to the borrower, can support approximately $60 million in loans throughout the State of Alabama on terms listed below (detailed terms here):
Minimum loan size: $50,000.
Maximum loan size: $4,000,000.
Interest rate: 1%, fixed, per annum.
Closing costs: 1.75% program origination fee and reasonable and customary costs from a participating lender partner.
Other program requirements, as applicable (see Technical Guide)
There is a limited amount of funding set aside for direct loans from AlabamaSAVES, LLC, also offered at a 1% interest rate. Direct loans are available under different terms as posted here.
Eligible Service Providers
Installing contractors, energy service providers, ESCO's, product vendors, consultants, engineers and auditors all could serve a potential role in your energy saving project, dependent on your specific needs. To find out if your preferred contractor or other service provider is an authorized participant in the program, here is the list of Eligible Service Providers. If you wish to utilize a firm not already on this list, please encourage them to review requirements for participation as listed on the Providers page.
Program Goals
AlabamaSAVES™ is dedicated to these benefits:
Supporting local business growth statewide.
Leading clean energy solutions
Reducing energy costs
Creating Jobs
*According to United States Energy Information Administration (EIA)